Through the years, Star Work Sky has gained a solid specialization in a wide range of aerial operations by helicopter. Its pilots and field operators have many thousand hours experience spent on several types of services by cargo hook and a keen knowledge of the geographical areas where most of the works are carried on.
Each mission is planned in advance by our operative staff together with the customer, each transport and each site is prepared with the supervision of our field assistants in order to optimize the work and minimize its execution time and risks.
The helicopter type more frequently used by SWS for aerial works with cargo hook is the "Squirrel" Airbus AS350B3, with about 1000 kg maximum loading capacity. For detailed technical, operational and commercial informations, You are kindly invited to contact our offices.
Here's a panoramic view of the most relevant applications for which such a versatile mean of transport as the helicopter can be applied.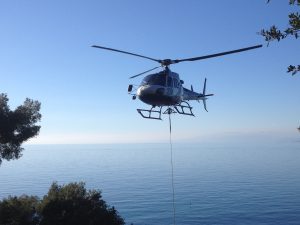 ROCKFALL & AVALANCE BARRIERS INSTALLATION
CHEMICAL SUBSTANCES SPREADING